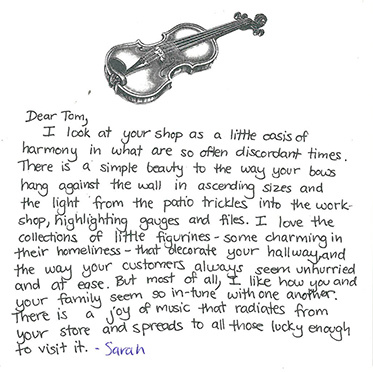 "This is an absolutely wonderful shop. Amazing atmosphere with super friendly staff. My first visit there today and loved it!" - Sam M.
"Absolutely has the coolest most helpful staff. There are some places, stores and venues where I sometimes feel a tad intimidated due to the nature of such locations, I guess due an awful experience a long time ago from a different store with a less than interested staff when asked for information regarding the instrument, it really put me off and kind of put a stigma in my head that most of these kind of stores have staffers who couldn't even see past their nose - a bunch of snobs.
Metzler changed all that for me. The staff here from the get go have been nothing but awesome, they will explain and give you alternatives and options for products that you need, they know their instruments well too or will refer to to someone in the store who could probably explain it to you better if need be.
I highly recommend Metzler if you are interested in getting started in playing a musical instrument, they have a knowledgeable friendly staff, offers lessons for all ages  and their outfits are of really great quality." - Neil G.
"For the first time in about 20 years one of the two plates on the front of my cello developed a slight warp resulting in the split of the seam beneath my fingerboard. The repair entailed removing the top with alignment and braces necessary. To me this was very scary since over the years I had heard tales of cellos after repairs losing sound quality. Happily when I got my cello back the repair was visually unnoticeable AND the sound quality is now better than ever!!! Thank you Tom Metzler!" - Michael I.
"These people have been bending over backwards to help me since 1994 when, as a 44 year old, I began to play viola.  I can't think of a more courteous, thoughtful bunch than Tom and Barbara, and their wonderful associates.  My instructor in violin works out of that store, and she is the best!  As I have improved through the years, Tom has gone out of his way to assist me with their generous trade-up policy.  They treat me as family, even though some years I may show up but once.  A heartfelt thanks to all at the store." - Daniel G.
"Happily when I got my cello back the repair was visually unnoticeable AND the sound quality is now better than ever!!! Thank you Tom Metzler!" - Michael I.
"And the shop was like entering another more beautiful and civilized dimension of reality. It was a fix-my-crap errand turned unexpectedly sublime." - Alanna L.
"I can't tell you how happy I am with the work done" - Daniel G.
"I say without hyperbole that the Metzler Violin Shop is my favorite place in the world." - Lance A.
"Amazing staff and great selection of stringed instruments, accessories and music. Highly recommend you visit!" - David B.
"We were there to buy my daughter's 1st violin, they gave us time to educate us about the violin & about its care. We were truly satisfied." - Arina E.
"I have always gotten excellent service at the Metzler Violin Shop. I have bought two violins there, and have had bow rehairs and other repairs done. Everyone there is knowledgeable and courteous." - Pamela F.
"Awesome customer service. Cute store. Got just what I needed. Wesley was amazing helping me with a new cello I purchased elsewhere. I wish I would have purchased my cello here. Will definitely be back. - Reliable B.
What a wonderful shop! It's a place that when you walk in, you feel the passion for music in the air. There's a workshop and you can see the instruments being worked on and being cared for. It's truly an amazing experience visiting this shop. I felt like I had been transported to a different time and you can almost pretend it's not the age of the internet and cell phones. Nostalgia aside, the employees were just as wonderful. They taught me how to tune my violin, fix the strings, and I was able to get new rosin. They have anything you would need to start, continue or enjoy playing a string instrument.
It's truly a great place and as a music lover, I loved the feelings I had when I entered the shop. I highly recommend them to anyone who needs help with their instrument. It seems like they're known from all over, as people from Big Bear and San Diego were in there when we visited, so you know this is quite a unique gem!" - Natalie T.
"I just started my 6 year old daughter with violin lessons and the staff here were so welcoming and helpful. The place was recommended by my daughter's instructor for violin rental. One of the Metzler girls helped with the violin size and showed us how to care for the instrument. Rental agreement process was smooth and the price was fair so I am happy with everything. Thank you guys again!" - Stephanie V.
"I have always had the best of service at Metzler's Violin Shop. I purchased both my cellos there as well as my cello bow. I had such patient assistance from Tom and Barbara as well as my wonderful teacher, Leah. They let me borrow the instruments and bows for as long as I needed and helped me along the way. No pressure at all. Just the best professional help ever! They have an incredible selection of cellos and cello bows as well as violins. And answered all my questions and never made me feel that my questions were silly. The entire family is dedicated to music and their passion is evident. The staff of workers who repair instruments is also top notch. I am so fortunate to have found this place. They also support and encourage groups of musicians who get together and play there on an informal basis. It's wonderful. I highly recommend Metzler's Violin Shop to anyone from beginner to professional!" - Julie I.